Book: Treating Troubled Adolescents
- a Family Therapy Approach
by H. Charles Fishman, M. D.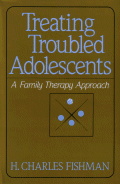 Today's clinicians are discovering that seriously troubled adolescents are best helped with in the context of their social environment, especially their families. Surprisingly, until now there has been no book devoted exclusively to a family therapy model of understanding and treating adolescents. This much-needed new book fills that gap. Written by the co-author of the classic Family Therapy Techniques and based on years of clinical experience, it presents a clear, immensely practical approach to the assessment and treatment of adolescents with severe emotional problems.
Dr Fishman begins with an original and useful diagnostic tool for organizing therapy and shows how to identify the "homeostatic maintainer," that is, the social forces that support a given problem. Then, using full-length case examples with incisive commentary, he demonstrates how the principles of structural family therapy - including enactment, unbalancing, and reframing - are successfully applied to such issues such as delinquency, violence, suicide, runaways, and incest. In an important final section he highlights the special concerns of adolescents in single parent families and shows how couples therapy can significantly help ameliorate the problems of disturbed adolescents.
Endorsements for Treating Troubled Adolescents
"Destined to be a classic, this is unquestionably the finest book ever written about treating troubled adolescents."

- Bradford P. Keeney, Professor of Human Development and Family Studies, Texas Tech University.
"A major contribution. Clinicians who work with adolescents should make this book a top shelf title alongside of Fishman and Minuchin's Family Therapy Techniques.

- Douglas C. Breunlin, Director, Family Systems Program Institute for Juvenile Research.
"Every adolescents has to tackle the problem of increasing autonomy without losing family support - gaining independence without sacrificing belonging. Treating Troubled Adolescents defines the needs of both families and adolescents in this period so troubling for both systems; it is an Ariadne's thread for therapists entering this labyrinth. Fishman develops the four dimensional model to help the therapist assess problems from a systemic perspective, determining priorities, suggesting points of entry, and techniques for therapy. Using the frame, he looks at adolescents suicide, drug addiction, delinquency, parental divorce... and makes eminent sense. Treating Troubled Adolescents respects complexity, yet enables intervention. Read it and learn; you'll like it."

- Salvador Minuchin, Research Professor of Psychiatry, New York University.
"Dr Fishman has produced real interview scripts with tough cases, detailed descriptions of the diagnosis and the method for forcing the creation of the generation gap -- with no generation gap the successful passage from childhood at adult may never happen."

- Carl Whittaker, Professor Emeritus, University Of Wisconsin Medical School.
"In a literate, wise, and touching way Treating Troubled Adolescents takes us on a journey that accurately assesses a clinical world too often characterized by confusion and despair. At once, the books serves as the major advancement of structural therapy since Family Therapy Techniques, as well the a standard for how contemporary therapy models can be flexibly and creatively crafted to such particular clinical populations and stages of the life course. Fishman's work is much-needed nourishment for those in the clinical trenches of family therapy with adolescents."

- Howard A. Liddle, Associate Professor of Family and Community Medicine, University of California, San Francisco.
"Treating Troubled Adolescents is well-organized, deals with the important issues, and will be useful for anyone trying to understand and do something about adolescents and their families. Dr Fishman's writing style is lively, and there are vivid excerpts from family interviews to illustrate this approach to therapy."

- Jay Haley, Director, Family Therapy Institute of Washington, DC.
Contents of Treating Troubled Adolescents
Part 1: The Therapeutic Approach
chapter 1

Family Therapy: the Treatment of Choice for Adolescents

chapter 2

The Tools of Therapy
Part 2: Treating Disturbances of Adolescents: Clinical Cases
chapter 3

Treating Delinquency: Assessing the Premises of Self

chapter 4

The Runaway Adolescent: A Therapy of Options

chapter 5

Treating the Violent Family: First Do No Harm

chapter 6

Incest: a Therapy of Boundaries

chapter 7

The Suicidal Adolescent: A Stranger in Paradox

chapter 8

Disability and the Family: the Search for Competence
Part 3: Treating Disturbances of Subsystems: Clinical Cases
chapter 9

A Single Parent Family: A Disorganized Organized System

chapter 10

Couples Therapy: The Last Frontier

chapter 11

Follow-up

chapter 12

Epilogue