Eating Disorders
- The Intensive Structural Therapy Model
Eating disorders are among the most difficult problems to treat in psychiatry. They are debilitating, tend towards chronicity and are dangerous. In fact, eating disorders are the most fatal of the psychiatric diagnoses, per capita.
Intensive Structural Therapy (IST) represents a profound shift from models in which the problem is seen as residing within the individual. The primary context that is the focus is the family - which is seen as a resource for healing the eating disorder. The treatment includes all of the people who are influential in the person's life. For older patients it is common to involve such contexts as friends, co-workers, and social agencies in the therapy.
This eating disorder approach is based on the pioneering work by Salvador Minuchin, Bernice Rosman and Lester Baker in the early 70's. The results of that work were published in their seminal book, Psychosomatic Families: Treating Anorexia in Context (Minuchin, Rosman, & Baker, 1978). In the original project, follow-ups conducted over two to seven years of the sample of 53 anorectic adolescents (median age 14) found 86 percent asymptomatic with good psychosocial functioning. A study by Martin (1985), using the same model, conducted with anorectic adolescents in Toronto and followed up at five years used a similar approach to treatment and found the same degree of success in outcome.
Intensive Structural Therapy grew directly out of the psychosomatic family model, and is described in Family Therapy Techniques, by Salvador Minuchin and H. Charles Fishman (Harvard University Press) 1981.
Over the years, Dr. Fishman came to see a need for the Structural Family Therapy (SFT) model to be broadened to address resources in the patient's present context. The IST model adds to Structural Family Therapy a new concept: that there are forces that maintain the problematic status quo. This assessment tool is called the Homeostatic Maintainer (HM). The use of the HM concept allows the clinician to direct treatment incisively.
Change is often described in terms of weeks and months in psychiatric research. In his recent volume Enduring Change in Eating Disorders: interventions with long term results, Charles Fishman provides on a qualitative basis follow-up data from as long as 20 years post therapy. This long-term perspective provides a unique picture of what works, and what doesn't work, providing invaluable information for the clinician, suffers and their families.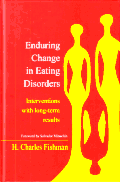 About Dr Fishman's book:
Enduring Change in Eating Disorders
New Zealand Clinic
Dr Fishman is the Director of NZ Eating Disorder Specialists - a private clinic in Auckland to help people and their families overcome eating disorders such as anorexia and bulimia.
Publications on Eating Disorders
Fishman, H.C., Family Considerations in Liaison Psychiatry: A Structural Approach to Anorexia Nervosa in Adults. Psychiatric Clinics of North America, Vol 2, No. 2. August 1982.
---
Fishman, H.C., Chapter 6 of Treating Eating Disorders, Edited by Joellen Werne, a volume in the Jossey-Bass Library of Current Clinical Technique, Dr. Irvin D.Yalom's new series, The Jossey-Bass Library of Contemporary Technique, San Francisco: Jossey-Bass, 1995.