Book: Enduring Change in Eating Disorders
- Interventions with long-term results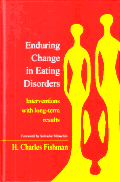 Enduring Change in Eating Disorders by H Charles Fishman provides a unique perspective on the successful treatment of one of the most debilitating and recalcitrant psychiatric diseases. This book presents the powerful and proven effective model of Intensive Structural Family Therapy and its application to the treatment of eating disorders.
Drawing on specific cases from the authors nearly 30 years in practice, compelling family sessions invite the reader into the treatment process. Documented with up to 20 years of qualitative data, the book demonstrates the undeniable power of this treatment model, while at the same time revealing an underlying strength and resiliency of the clients and families. The book contains explicit interventions demonstrated through therapy sessions conducted with eating disorder patients and their families along with follow-up interviews with patients to assess change and improvement.
A uniquely personal book, it describes in the eating disorder sufferers' own words their challengers and, in many cases, their ultimate success. This practical, frank book is invaluable to practitioners, individuals with eating disorders, and their families.
Endorsements for Enduring Change in Eating Disorders
"Dr Fishman's book is timely. In it we see the importance of clinical thinking and, even more unusual, the value of long-term follow-ups to determine what went well in therapy, and where therapy failed the patient. Dr Fishman talks about more than 100 patients with a follow-up of up to 20 years."

- from the forward by Salvador Minuchin M.D. author, Families and Family Therapy; co-author Family Healing (with Michael P. Nichols); Founder, The Minuchin Centre.
Anyone wanting guidance to success with eating disorders will find it in this comprehensive volume by Dr. Fishman. It reviews the contemporary data on this topic as well as the history of eating disorders. The data is gathered by a team of experts led by Salvador Minuchin, MD. They include Bernice Rossman,PhD., Lester Baker, MD, and Ronald Liebman, MD.

The group has produced data clear enough to satisfy an individual therapist or an academic program. Dr Fishman has focused on the social aspects of the malady as well as its inner nature.

It is a practical approach stressing behavior more than diagnosis. As an example, I recall visitors to the Philadelphia Child Guidance Clinic who observed a lunch session. They said to Dr. Minuchin, "We wished we had known you were treating anorectics." Dr. Minuchin replied, "She is not an anorectic. She is a little girl who won't eat."

The work represents a large topic which is well done and illustrated with interesting cases.

- Jay Haley, Ph.D.
"To become or remain hopeful in treating people with eating problems, practitioners should read this book and become believers."

- Lee Combrinck-Graham, M.D., Founder and a Former Medical Director, Renfrew Centre; Medical Director, Intensive In-home Child and Adolescent Psychiatric Services, Family and Children's Agency, Norwalk Connecticut.
"Ambitious and a pleasure to read. Dr Fishman imparts much to readers, educating us about the nature and history of eating disorders, tackling the issue of treatment effectiveness with these difficult, life-threatening conditions, and clearly explicating a treatment model with helpful clinical examples throughout. An excellent text!"

- Kyle Killian, Ph.D. LMFT, Associate Professor, University of Huston, Clear Lake.
Contents of Enduring Change in Eating Disorders
chapter 1

The Nature of Eating Disorders

chapter 2

Can Eating Disorders Be Treated?

chapter 3

Intensive Structural Therapy: Basic Concepts

chapter 4

The Intensive Structural Therapy Model

chapter 5

Treating the Young Anorexic: the Technique of the Lunch Session

chapter 6

Treating the Young Anorexic: the Behavioral Paradigm

chapter 7

Treating the Young Anorexic: the Family As the Delivery System

chapter 8

Bulimia

chapter 9

Compulsive Overeating

chapter 10

Eating Disorders with Comorbid Diagnoses

chapter 11

Therapeutic Impasse: Where the Rubber Hits the Sky

chapter 12

Therapy for a Smaller Planet

Appendix

Lunch Session Protocol
Free Sample Chapter!
Download Chapter 3:
'Intensive Structural Therapy: Basic Concepts' [ 164KB PDF ]
Buy online
Purchase Enduring Change in Eating Disorders at Amazon
Kindle version: Enduring Change in Eating Disorders: Interventions with Long-Term Results [Kindle Edition]