Intensive Structural Family Therapy – Introduction
A fundamental concept of SFT is the notion that the problem is maintained by the contemporary social context – the family, the extended family, friends, agencies and any other social or physical forces that impinge on the client and family. The focus on the contemporary context is based also on a belief regarding the self.
You Can Fix Your Family – book by Charles Fishman (2013)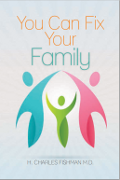 Trying to solve family problems? This wise, practical book will guide you. You will find yourself and your family on many of its pages and quickly discover that those precious relationships can be saved and preserved. Learn more about 'You Can Fix Your Family'.
Fix Your Family Forum
Readers of 'How To Fix Your Family' are invited to share their experiences, and ask for suggestions from Dr Fishman. Visit our 'Fix Your Family' Forum
Family Structure
As defined by Minuchin (1974), "family structure is the invisible set of functional demands that organizes the ways in which family members interact. A family is a system that operates through transactional patterns. Repeated transactions establish patterns of how, when, and with whom to relate, and these patterns underpin the system."
For example, a mother tells her child to pick up his socks and he obeys. This interaction defines who she is in relation to him and who he is in relation to her. Repeated interactions constitute a transactional pattern.
An operational definition of structure sees structure as the proximity and distance between members in a system. The functionality and dysfunctionality of this proximity and distance are determined on the basis of the developmental stage of the family members. This mother telling her son to pick up his socks may be appropriate when the boy is three but not when he is twenty.
In a paper written by Salvador Minuchin and H. Charles Fishman (1979), "The Psychosomatic Family in Child Psychiatry", it was proposed that the self is multi-faceted and that behavior and emotion expressed by a given individual are the result of not only history, temperament, and biology, but are called forth by demand characteristics of the present context. In a clinical setting, as we change the patient's social context, the problem is ameliorated as different facets of the patient's self are expressed.
Family Boundaries
Stemming from the concept of structure is the concept of boundaries. Boundaries describe the patterned transactions between members of a system to the exclusion of others. The SFT therapist posits that a functional organization within the family must have appropriate boundaries between subsystems: the parental, the siblings, the family unit as a whole, and the individual.
Emanating from this concept is a very useful family diagnostic nosology that describes dysfunction: "enmeshed," for a family (or a subsystem) that is overly close; "disengaged", where the family is too distant from one another. Other concepts that follow are triangulation, where one person is torn between two other people. For example, in the case where the parents disagree and they ask the child, "Is Mommy right or is Daddy right."
Assessments of structure are gauged against developmental norms. Enmeshment is the inappropriate closeness of family members against a backdrop, of course, of developmental appropriateness. The term disengaged is used when there is too much distance between family members.
About Dr Fishman's book:
Intensive Structural Therapy.
External links